Tile Flooring in Schenectady, NY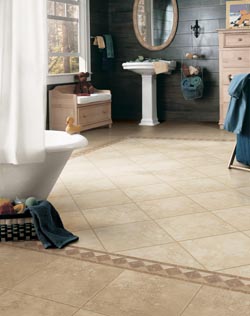 Do your prefer tile flooring with clean lines and soft shades or with striking design and multiple colors? Whichever you choose for your home or business, our family-owned-and-operated enterprise is ready to provide you with tile flooring installation. It is our business and our pleasure to help you pick the tile of your choice and install it for you.
We offer a stunning selection of porcelain, slate, and ceramic tile. Turn to our design and sales professionals for decorating ideas and comprehensive product knowledge. Let us offer you high-quality tile products from respected and reputable manufacturers such as Floorcraft and Star Values.


Professional Tile Flooring Installation Prevents Damage
The professionals at our flooring store want to make sure that you are completely satisfied with your new tile flooring. While you are at our store, we help you find the slate, ceramic, or porcelain tile that works well with your décor and meets your requirements for strength, durability, and beauty. Let us send our certified installers to your home or business to lay your tile floors for you.
Laying tile is a difficult and time-consuming task that requires exact measurements and precision placement. The individual tiles must be secured by a bed of mortar and are divided with a line of grout. Sloppy works shows and leads to tiles that loosen and crack. With our professional installation, your tile flooring looks fabulous and is protected from damage.


Elegant & Cost-Effective Ceramic Tile
Ceramic tile is versatile and water resistant. Because water and liquids do not sink into the individual tiles, you can use this floor covering in any room of your house. Watery areas - such as the kitchen and bathroom - and spaces with high humidity - such as the basement and laundry room - are ideal for tile. However, do not rule tile out for flooring in your foyer, living room, dining room, or bedroom. The elegance of ceramic tile is well suited these spaces. Ceramic is softer and easier to cut and install than porcelain and slate tile and costs less.


Modern & Hypoallergenic Porcelain Tile
Valued for its modern look and clean lines, porcelain tile is denser and stronger than ceramic and lower in price than slate. Porcelain, like all tile, is easy to clean and maintain, and possesses hypoallergenic qualities. These qualities make tile the perfect flooring for people with asthma and allergies for it has no fibers to hide dust mites and mold.


Elegant & Enduring Slate Tile
Other tile options we offer include flooring made of natural stone, such as slate. As you would expect, slate tile weathers well, just like the stone from which it is made. It is available in an earthy array of rich colors with variations that add unique appeal. Slate brings beauty to your home or business building and adds value to your property.
Let us help you compare the different types of tile and make the right choice for your flooring. To find out more, call us at <PHONE> or use the form to the right!


To learn more about our 12 month financing options:


Contact us today for information about the benefits of installing tile flooring in your home or business. We proudly serve customers in Schenectady, Niskayuna, Clifton Park, Guilderland, and Delmar, NY, and the surrounding areas.