Luxury Vinyl Flooring in Schenectady, NY
When you are looking to boost your home's value, update your space's style, or add a room with great floors; you can do it all with luxury vinyl flooring from Schenectady Floor Covering. Our trained team of experts is here to guide you through the buying process, ensuring that you make informed purchases that deliver the best results for your goals and home. No matter the scope or purpose of your project, luxury vinyl makes an excellent foundation for long-term luxury without an expensive price tag. Available in numerous colors and designs, you can customize your look and tailor any room to be as unique as your vision and personality.
At our showroom in Schenectady, NY, it's all about crafting an unmatched shopping experience for the people who matter most to us - our customers. Whether you're planning for an annual renovation, comparing prices for one already underway, or looking to lay down reliable, resilient flooring as soon as possible, you can count on us to lend a hand!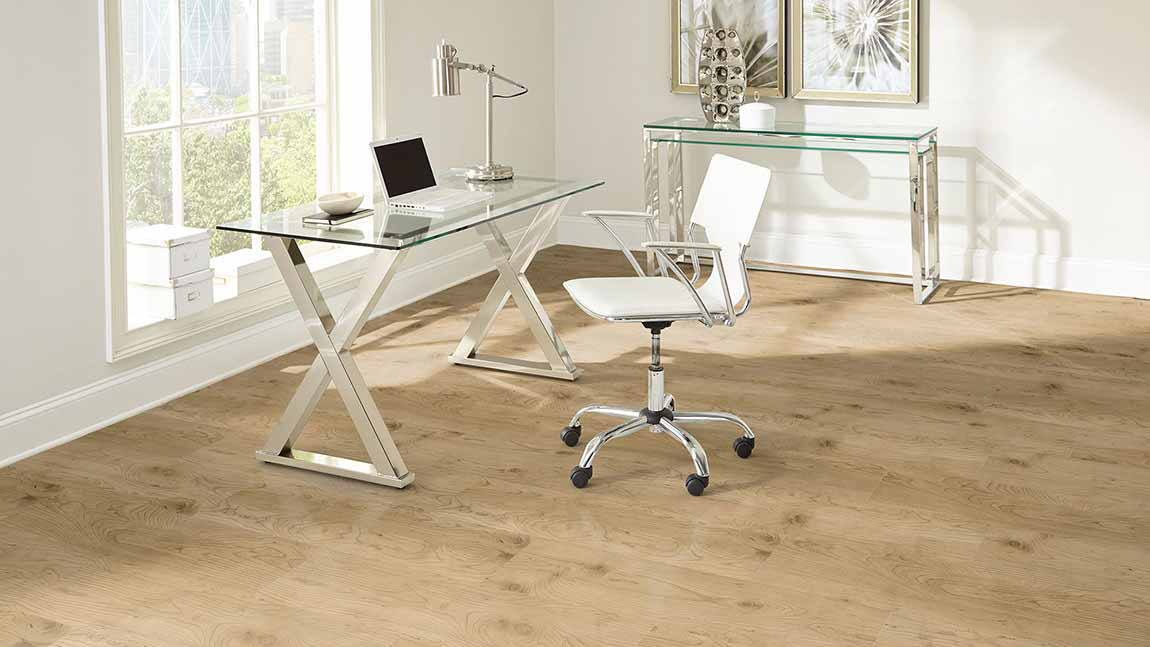 The Benefits of Luxury Vinyl
Luxury vinyl has many benefits besides its ease of maintenance and ability to make your home look great. We only carry luxury vinyl products from the best brands and manufacturer in the industry so you know you are getting a quality floor that will last for decades. Learn more about these benefits here:
Luxury vinyl is known for being made from

waterproof

materials that can

withstand moisture and standing water

, making it ideal for kitchens, basements, and bathrooms.

Luxury vinyl is a

tough surface

that can withstand even the heaviest foot traffic and roughest wear and tear. It typically comes with a protective layer that is

resistant to scratching, scuffing, chipping, and cracking

.

It's

easy to keep clean,

and maintenance won't take much of your time

Vinyl is

built to last

and can withstand heavy foot traffic, high amounts of pressure, and can be used throughout your home.

Luxury vinyl is

affordable

and costs less than other popular flooring choices like ceramic or hardwood, making it a

smart flooring for those on a budget

.
Types of Luxury Vinyl
Whether you are looking for luxury vinyl plank (LVP) or luxury vinyl tile (LVT), we have it all! These high-performance materials are exceptionally resilient due to their layered compositions. Either vinyl flooring type is made from several wear layers beneath a resistant vinyl surface designed to stand up strong to even the heaviest foot traffic. Learn more about our luxury vinyl selection:
LVP

is a budget-friendly hardwood alternative made using advanced photographic technology that results in beautiful decorative layers with

authentic-looking

grain and whirl patterns that replicate your favorite types of hardwood.

LVT

mimics the look of porcelain, ceramic, and natural stone tile. Still, it is a comfier alternative that is

softer underfoot

and is ideal for bathrooms, kitchens, and other high-moisture areas of your home.
Is Luxury Vinyl Waterproof?
All of our luxury vinyl products offer some level of moisture resistance. We also provide 100% waterproof choices. Waterproof vinyl flooring comes with leak-tight seams and a rigid core. Our waterproof vinyl plank flooring is perfect if you want a wood-look floor in your bathroom, kitchen, or mudroom. Additionally, vinyl tiles are simpler to install and often more affordable than real tiles and stones. Our luxury vinyl floors are also highly stain-resistant, and you can find options with extra slip resistance for added safety.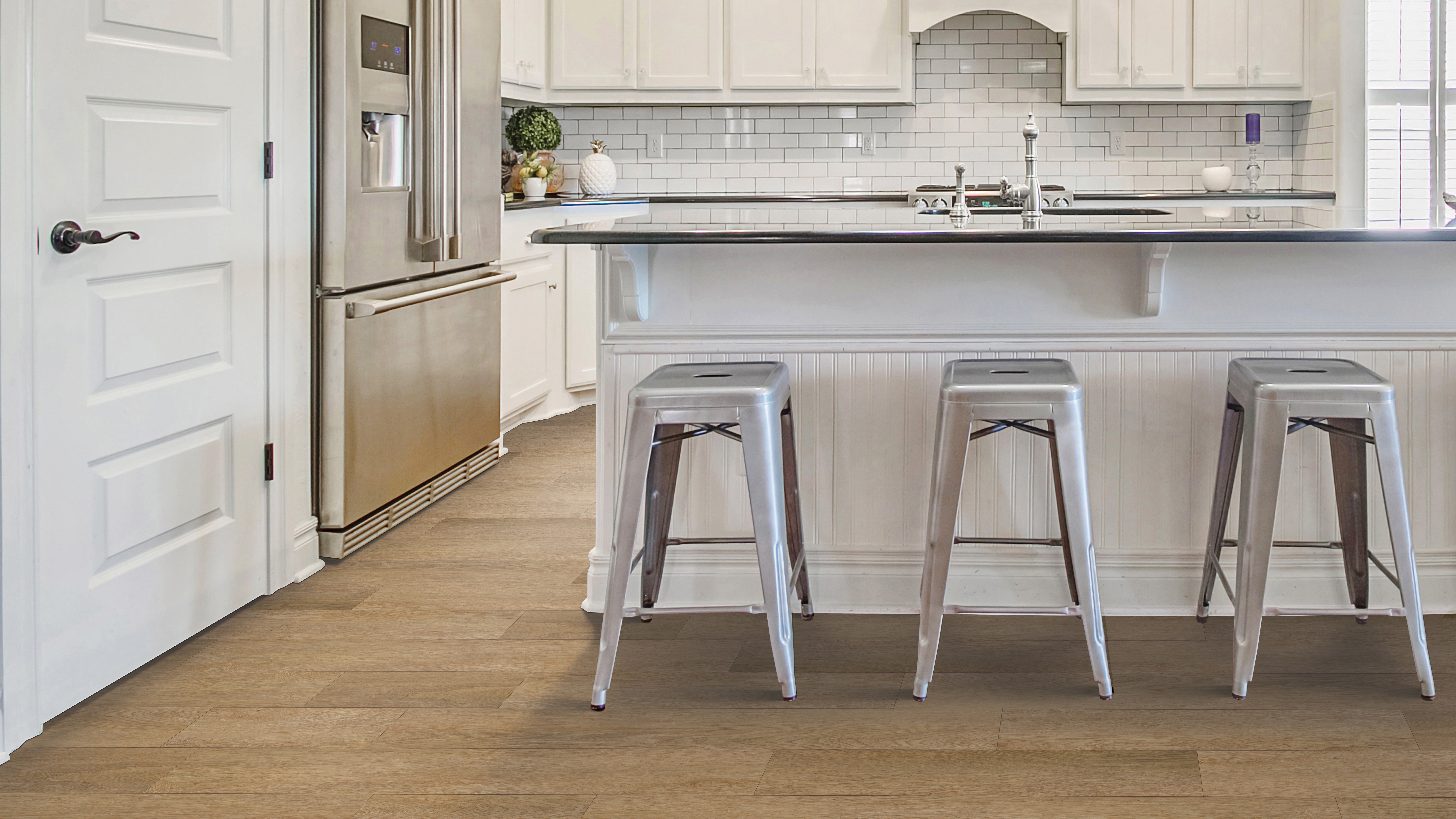 Maintaining Your Luxury Vinyl Flooring
Spills and liquids are no match for our luxury vinyl, which makes for no-stress cleaning and maintenance. Before using a cleaning product that may contain harsh chemicals that could damage your new luxury vinyl floors, we recommend reviewing your new floor's warranty. Browse our Downs H2O collection for additional waterproof assurance. Regular cleaning can be performed by:
Regular sweeping or vacuuming to remove any dust and debris from the floor.

Weekly wet mopping for a deeper clean.
Professional Luxury Vinyl Installation
Get the most out of your investment by leaving your flooring installation needs in the hands of our trained flooring installers. By trusting our skilled specialists with the installation of your new floor, you can have the utmost confidence that every inch will be laid perfectly. From your initial consultation all the way to the completed installation, you'll see firsthand that you have the full support of our team at every step of the way. We are so confident in the work of our installers that we back almost every job with our Ultimate Confidence Guarantee. This guarantee is a unique promise that if you are unhappy with the flooring we've installed, you don't have to worry. If you contact us within 30 days of the initial installation, our team will replace the unsatisfactory product with similar material for free.
Contact us
to learn more about our luxury vinyl selection and services. We proudly serve Schenectady, NY, and the surrounding communities.