Wood-Look Tile in Schenectady, NY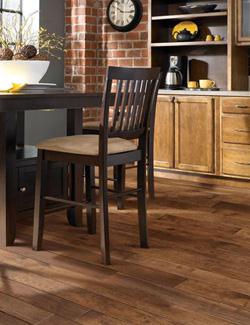 Love the way wood looks? You're hardly alone -- wood has long been one of the most preferred flooring materials in the nation. Unfortunately, wood isn't suitable for all rooms. If you live in a high humidity climate or the room receives a lot of moisture, you should avoid wooden floors.
You can get the appearance of wood in any room though thanks to the special tile products available at Schenectady Floor Covering. Shop our collection of wood-look tile in Schenectady, NY, to find the perfect alternative to natural wood. We're proud to offer a diverse selection of brand-name tile ideal for any room in the house. Visit our showroom today to see our collection for yourself and learn more about the advantages these products offer.
Moisture -- The Natural Enemy of Hardwood Flooring
Have you ever noticed that your door sticks in the frame after a lot of rain? Wood is absorbent, so it sucks in moisture from the air and swells temporarily before contracting again. When a wood floor undergoes this frequent expansion, it creates unsightly gaps and leads to additional wear and tear. You can avoid this issue altogether with wood grain tile. Tile does not swell like wood, so you can install it anywhere without worrying.
The Beauty of Wood, the Strength of Tile
Tile is perhaps the strongest and longest lasting flooring material available. When you combine that strength with the appealing beauty of wood, you get a combination that you and your guests will love for years to come.
Browse our collection to see for yourself how closely these tile products resemble hardwood. In addition to their realistic appearance, these products come in a wide range of styles. No matter what wood species or finish you prefer, there is a tile surface for you at our store.
Furthermore, you can choose between a ceramic wood tile and porcelain options. Talk to our sales associates to learn about the difference between ceramic and porcelain and decide which is right for you. We're also happy to help you pick out a specific surface that complements your overall interior design.

Contact us to learn more about our many tile products. We proudly serve customers from Schenectady, Niskayuna, Clifton Park, Guilderland, and Delmar, New York, as well as the surrounding areas.